Yellowstone , Etats-Unis :

44 ° 25'48 "N 110 ° 40'12" W,
Summit Elevation 9203 ft (2805 m)
Current Volcano Alert Level: NORMAL
Current Aviation Color Code: GREEN

Seismicity

During March 2015, the University of Utah Seismograph Stations, responsible for the operation and analysis of the Yellowstone Seismic Network, reports 56 earthquakes were located in the Yellowstone National Park (YNP) region. The largest event was a small earthquake of magnitude 2.2 on March 23, at 00:25 AM MST, located about 16 miles north northwest of Lake Village, WY.
No earthquake swarm activity was present during March.

Yellowstone earthquake activity in March remains at low background levels.




Le Great Fountain Geyser, photographié ici, éclate tous les 9 à 15 heures, et envoie de l'eau jusqu'à 220 pieds (67 mètres) de haut.


Ground deformation
GPS stations in the caldera (and north of the caldera) exhibit minimal movement either up or down at this time. An example can be found at:
http://www.unavco.org/instrumentation/networks/status/pbo/data/HVWY (click on Static Plots / Time Series)
The Yellowstone Volcano Observatory (YVO) provides long-term monitoring of volcanic and earthquake activity in the Yellowstone National Park region. Yellowstone is the site of the largest and most diverse collection of natural thermal features in the world and the first National Park. YVO is one of the five USGS Volcano Observatories that monitor volcanoes within the United States for science and public safety.

Source : YVO .
Photo : Michael Melford / travel.nationalgeographic.com.



Sinabung, Indonesie :


The eruption of the volcano Sinabung continuous and ever hurling pyroclastic flows. The one we can see in the picture accompanying the article was photographed today April 1, 2015. In fact, as impressive as they are, these glowing avalanches do not change the situation on the ground . The level alert of the Sinabung is maintained at 3 (Siaga) and villages are evacuated within 3 kilometers of the volcano. More than 18 000 people had to leave their homes in August 2010 when the eruption began. Many families have returned to their homes and others were relocated to less exposed areas to the wrath of the volcano .




Sinabung on 04/01/2015 - 11:42 am seen from Gundaling - Berastagi.

Source : Blog C Grandpey / Lave.
Photo : Endrolew


Kuchinoerabujima , îles Ryukyu , Japon :

30,443 ° N, 130,217 ° E
Elevation 657 m

JMA reported that no eruptions occurred from Kuchinoerabujima during 27-30 March, although the level of activity remained elevated. White plumes rose 1 km above Shindake Crater. Continuing fumarolic actiivty in a crack in W part of the crater was confirmed during a field survey.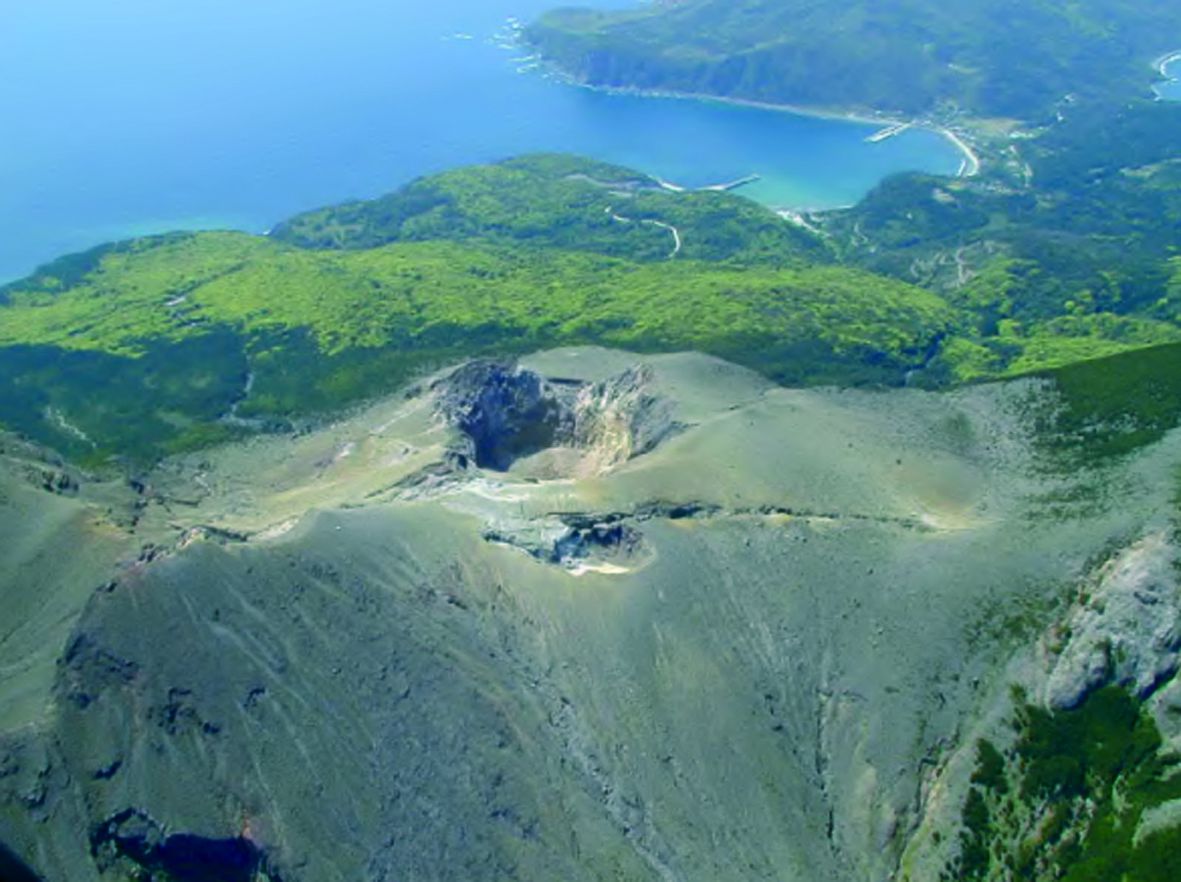 Kuchinoerabujima - the crater Shindake and the fissure of the eruption of 1980. - doc.JMA

In addition the temperature of a thermal anomaly in the W part continued to rise. Low-level seismicity continued. The Alert Level remained at 3 (on a scale of 1-5).

Source: Agence météorologique japonaise (JMA) , GVP .
Photo : JMA