Super typhoon Rammasun slams China, Vietnam - risk of damaging winds, flooding, mudslides, coastal storm surge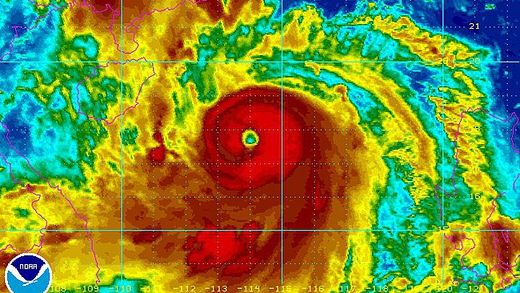 After moving over extreme northern Hainan China Friday afternoon, local time, the eye of Super Typhoon Rammasun will crash into the Leizhou Peninsula early Friday evening.
Rammasun, packing winds of 155 mph with higher gusts, is expected to make landfall again as the equivalent of a Category 4 hurricane early Friday evening, local time.

Rammasun will likely bring widespread winds of over 100 mph to northern Hainan Island on Friday afternoon and Friday night (local time) with higher gusts. Widespread wind damage is expected across northern Hainan, as well as the Leizhou Peninsula to the north.
Damaging winds will also be possible across southern Guangdong and Guangxi Provinces later Friday into Friday night in China as well as northern Vietnam late Friday night into Saturday.

Flooding rain, mudslides and coastal storm surge will also be risks associated with Rammasun.
A devastating storm surge will be possible in northern and eastern Hainan Island as well as the southwest coast of Guangdong, including the Leizhou Peninsula.

Rainfall of 100-200 mm (4-8 inches) is expected from Hainan Island through southern parts of Guangdong and Guangxi Province and across northern Vietnam, including Hanoi with local amounts around 300 mm (12 inches)

Hong Kong will remain far enough to the north, that any impacts will be limited to higher surf and a few downpours and gusty winds as the outer bands of the storm pass through the area.

Due to the rugged terrain of northern Vietnam, Rammasun will quickly weaken as it moves inland and become a post-tropical low by Sunday.
http://www.sott.net/article/282169-Super-typhoon-Rammasun-slams-China-Vietnam-risk-of-damaging-winds-flooding-mudslides-coastal-storm-surge